Honda CR-V: To Load a Disc
The in-dash disc player is behind the navigation screen. To use the disc player, press the OPEN button beside the screen. The screen folds back, and the disc slot appears.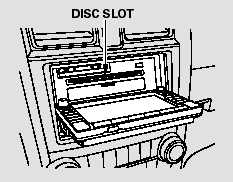 Insert a disc about halfway into the disc slot. The drive will pull the disc in the rest of the way and begin to play it.
You cannot load and play 3-inch (8-cm) discs in this system.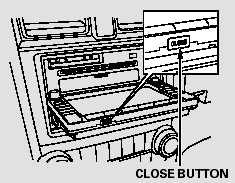 To return the screen to the upright position, press the CLOSE button on the edge of the screen panel. Do not use the folded down screen as a tray.
If you put a cup, for example, on the screen, the liquid inside the cup may spill on the screen when you go over a bump.
Push the AUDIO button beside the screen to show the audio display and operate the disc player.
You can also operate the audio system without using the control icons on the audio screen. Press the CD button. The status bar appears on the bottom of the screen. On the navigation screen, you can see the audio information whenever you touch the AUDIO INFO icon on the lower portion of the screen.
When playing a CD recorded with text data, the track, album, and artist name are shown on the audio display.
When playing a disc in MP3 or WMA, the folder number and name, the file number and name, the artist name, and the elapsed time are shown. The system will continuously play a disc until you change modes. If the disc was not recorded with text data, it will not be displayed.
READ NEXT:
You can use the preset buttons while a disc is playing to select passages and change tracks (files inMP3 or WMA mode). Each preset button's function is shown on the bottom of the scree
You can also select a track/file directly from a track list on the audio display. Press the AUDIO button to show the audio display, then touch the Track List icon. The track list menu ap
To play the radio when a disc is playing, press the AM/FM button or touch the FM1, FM2, AM, XM1, or XM2 icon. If a PC card is in the audio unit, touch the CARD icon to play the PC card. If a
SEE MORE:
Testing of Readiness Codes If you take your vehicle for an emissions test shortly after the battery has been disconnected or gone dead, it may not pass the test. This is because of certain ''readiness codes'' that must be set in the onboard diagnostics for the emissions systems
To remove a disc from the audio unit, fold back the screen by pressing the OPEN button. Press the disc eject button ( ) to remove the disc. If you eject the disc, but do not remove it from the slot, the system will automatically reload it after 10 seconds and put it in pause mode.
© 2016-2020 Copyright www.hcrv.net