Honda CR-V: Using a Track List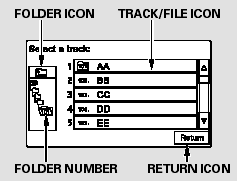 You can also select a track/file directly from a track list on the audio display. Press the AUDIO button to show the audio display, then touch the Track List icon. The track list menu appears on the display.
When playing a CD recorded with text data, each track name is shown on the audio display. With a disc recorded in MP3 or WMA, the folder number and the location are also displayed.
If the disc was not recorded with text data, only the track number is shown.
To scroll through the display, touch the

or

icon on the side of the screen. To go back to the previous display, touch the Return icon on the screen.
Select the desired track/file by touching the icon on the display. The selected icon will be highlighted in blue. The system begins to play the selected track/file. With a disc in MP3 or WMA, touch the folder icon on the upper left of the screen to move to the parent folder. The current folder is highlighted in blue.
READ NEXT:
To play the radio when a disc is playing, press the AM/FM button or touch the FM1, FM2, AM, XM1, or XM2 icon. If a PC card is in the audio unit, touch the CARD icon to play the PC card. If a
To remove a disc from the audio unit, fold back the screen by pressing the OPEN button. Press the disc eject button ( ) to remove the disc. If you eject the disc, but do not remove it from
If you see an error message in the display while playing a disc, find the cause in the chart to the right. If you cannot clear the error message, take your vehicle to your dealer. The cha
SEE MORE:
1. Check the No. 36 (10 A) fuse in the under-dash fuse/ relay box. Is the fuse OK? YES-Go to step 2. NO-Replace the fuse, and recheck. If the fuse blows again, check for a short in the No. 36 (10 A) fuse circuit. 2. Disconnect the recirculation control motor 7P connector. 3. Turn the ignition s
ATF Temperature Sensor Test/Replacement 1. Raise the vehicle on a lift, or apply the parking brake, block the rear wheels, and raise the front of the vehicle. Make sure it is securely supported. 2. Remove the splash shield. 3. Disconnect the shift solenoid harness connector. 4. Measure the ATF te
© 2016-2023 Copyright www.hcrv.net