Honda CR-V: Refueling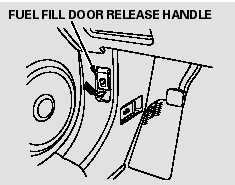 1. Park with the driver's side closest to the service station pump.
2. Open the fuel fill door by pulling on the handle located under the lower left corner of the dashboard.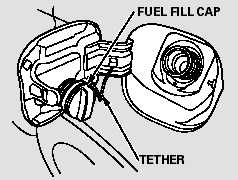 3. Remove the fuel fill cap slowly.
You may hear a hissing sound as pressure inside the tank equalizes.
The fuel fill cap is attached to the fuel filler with a tether. Place the cap in the holder on the fuel fill door.
4. Stop filling the tank after the fuel nozzle automatically clicks off. Do not try to ''top off'' the tank. This leaves some room in the fuel tank for the fuel to expand with temperature changes.
If the fuel nozzle keeps clicking off even though the tank is not full, there may be a problem with your vehicle's fuel vapor recovery system. The system helps keep fuel vapor from going into the atmosphere. Try filling at another pump. If this does not fix the problem, consult your dealer.

Stop the engine, and keep heat, sparks, and flame away.
Handle fuel only outdoors.
Wipe up spills immediately.
Gasoline is highly flammable and explosive. You can be burned or seriously injured when handling fuel.
5. Screw the fuel fill cap back on until it clicks at least once. If you do not properly tighten the cap, the malfunction indicator lamp may come on. You will also see a ''CHECK FUEL CAP'' message on the information display.
6. Push the fuel fill door closed until it latches.
READ NEXT:
Your vehicle's onboard diagnostic system will detect a loose or missing fuel fill cap as an evaporative system leak. The first time a leak is detected a ''CHECK FUEL CAP'' message
1. Park the vehicle, and set the parking brake. Pull the hood release handle located under the lower left corner of the dashboard. The hood will pop up slightly. 2. Reach in between the ho
Wait a few minutes after turning the engine off before you check the oil. 1. Remove the dipstick (orange handle). 2. Wipe off the dipstick with a clean cloth or paper towel. 3. Insert the d
SEE MORE:
WARNING! When replacing a blown fuse, always use an appropriate replacement fuse with the same amp rating as the original fuse. Never replace a fuse with another fuse of higher amp rating. Never replace a blown fuse with metal wires or any other material. Failure to use proper fuses may resul
Specia1 Tools Required SRS inflator simulator 07SAZ-TB4011A SRS simulator lead L 070AZ-SNAA300 NOTE: Before doing this troubleshooting procedure, review SRS Precautions and Procedures. 1. Erase the DTC memory. 2. Turn the ignition switch ON (II), and check that the SRS indicator comes on for
© 2016-2023 Copyright www.hcrv.net