Honda CR-V: Opening and Closing the Hood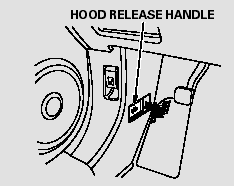 1. Park the vehicle, and set the parking brake. Pull the hood release handle located under the lower left corner of the dashboard.
The hood will pop up slightly.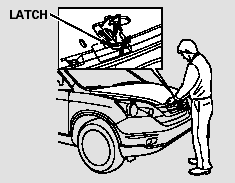 2. Reach in between the hood and the front grille with your fingers.
The hood latch handle is above the ''H'' logo. Push this handle up until it releases the hood. Lift the hood.
If the hood latch handle moves stiffly, or if you can open the hood without lifting the handle, the mechanism should be cleaned and lubricated.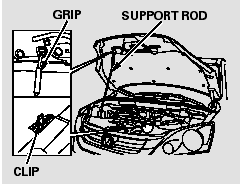 3. Holding the grip, pull the support rod out of its clip. Insert the end into the hole in the hood designated by an arrow.
To close the hood, lift it up slightly to remove the support rod from the hole. Put the support rod back into its holding clip. Lower the hood to about a foot (30 cm) above the fender, then let it drop. Make sure it is securely latched.
READ NEXT:
Wait a few minutes after turning the engine off before you check the oil. 1. Remove the dipstick (orange handle). 2. Wipe off the dipstick with a clean cloth or paper towel. 3. Insert the d
Look at the coolant level in the radiator reserve tank. Make sure it is between the MAX and MIN lines. If it is below the MIN line, see Adding Engine Coolant on page for information on add
SEE MORE:
Protection Of Body And Paint From Corrosion Vehicle body care requirements vary according to geographic locations and usage. Chemicals that make roads passable in snow and ice and those that are sprayed on trees and road surfaces during other seasons are highly corrosive to the metal in your vehicle
The service life of your tires is dependent on many factors, including, but not limited to, driving habits, road conditions, vehicle loading, inflation pressure, maintenance history, speed, and environmental conditions (even when the tires are not in use). In addition to your regular
© 2016-2023 Copyright www.hcrv.net