Honda CR-V: Outside Temperature Indicator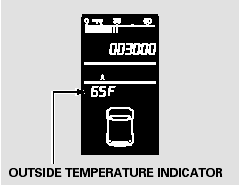 If equipped
This indicator displays the outside temperature in Fahrenheit (U.S.
models) or Celsius (Canadian models).
The temperature sensor is in the front bumper. Therefore, the temperature reading can be affected by heat reflection from the road surface, engine heat, and the exhaust from surrounding traffic.
This can cause an incorrect temperature reading when your speed is under 19 mph (30 km/h).
The sensor delays the display update until it reaches the correct outside temperature. This may take several minutes.
If the outside temperature is incorrectly displayed, you can adjust it up to +/-5°F in U.S. models (+/- 3°C in Canadian models) warmer or cooler.
NOTE: The temperature must be stabilized before doing this procedure.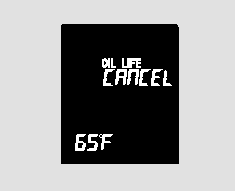 To adjust the outside temperature display, press and hold the select/ reset knob for 10 seconds. The display changes as shown above.
Select the outside temperature indicator by turning the select/reset knob. The display begins to blink.
Push the same knob to enter this setting, then turn it to adjust the temperature. The following sequence will appear for each: 0, 1, 2, 3, 4, 5, -5, -4, -3, -2, -1, 0 (U.S.) or 0, 1, 2, 3, -3, -2, -1, 0 (Canada).
When it reaches the desired value, push the select/reset knob to enter the setting. You should see the new outside temperature displayed.
In certain weather conditions, temperature readings near freezing (32°F, 0°C) could mean that ice is forming on the road surface.
READ NEXT:
If your fuel fill cap is loose or missing, a ''CHECK FUEL CAP'' message appears on the information display after you start the engine.
The information display in the instrument panel shows you the engine oil life and maintenance service items when the ignition switch is in the ON (II) position. This information helps to kee
Controls Near the Steering Wheel
SEE MORE:
1. Remove the front wheels. 2. Remove the splash shield (see step 21). 3. Remove the drive belt. 4. Remove the cylinder head cover. 5. Set the No.1 piston at top dead center (TDC). The punch mark on the variable valve timing control (VTC) actuator and the punch mark on the exhaust camshaft sproc
Transmission Removal Special Tools Required Engine hanger adapter VSB02C000015 CR-V engine hanger adapter VSB02C000032 Front subframe adapter VSB02C000016 Engine support hanger, A and Reds AAR-T-12566 These special tools are available through the Honda Tool and Equipment Program 1-888-424-6857
© 2016-2023 Copyright www.hcrv.net