Honda CR-V: Loading CDs in the Changer
Your vehicle has the CD changer in the center console.
CD-R, CD-RWdisc, and CD compressed inMP3 andWMA will not work in this unit. Video CDs and DVD discs also will not work.
Do not spill any liquids on the center console. Spilled liquids can damage electrical components in the CD changer.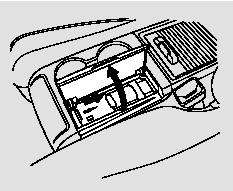 1. Open the center console cover, then slide open the CD changer cover by pulling it rearward.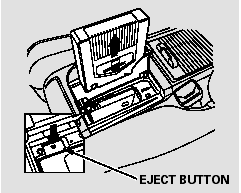 2. Push the EJECT button to remove the CD magazine. The magazine will pop up automatically.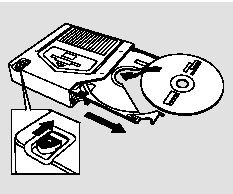 3. To install a CD into the magazine, push the button while pulling out on the tab.
4. Put a CDon the tray with the printed surface facing up as shown.
5. Reinstall the tray in the magazine.
Repeat this procedure to open the other five trays.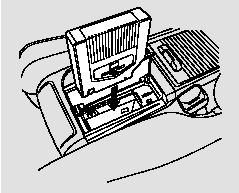 6. Store all six trays in the magazine, and reinstall the magazine in the CD changer as shown.
7. Make sure to slide the CD changer cover closed until it clicks.
To remove CDs from the CD changer, refer to the loading procedure.
READ NEXT:
To play CDs, the ignition switch must be in the ACCESSORY (I) or ON (II) position. You operate the CD changer with the same controls used for the indash disc player or the radio. To select
Press the AM/FMor CD/XM button to switch to the radio or satellite radio while a CD is playing. If there is a PC card in the audio unit, touch the CARD icon to switch to the PC card while a C
If you see an error message in the display while playing a disc, find the cause in the chart to the right. If you cannot clear the error message, take your vehicle to your dealer. The cha
SEE MORE:
CAUTION Do not insert your fingers into the installed throttle body when you turn the ignition switch ON (II) or while the ignition switch is ON (II). If you do, you will seriously injure your fingers if the throttle valve is activated. NOTE: Before you troubleshoot, record all freeze data and any o
1500 Models Only NOTE: Do not use this model vehicle for snowplow applications. WARNING! Snowplows and other aftermarket equipment should not be added to the front end of your vehicle. The airbag crash sensors may be affected by the change in the front end structure. The airbags could deploy unexpec
© 2016-2023 Copyright www.hcrv.net