Honda CR-V: Cargo Area Light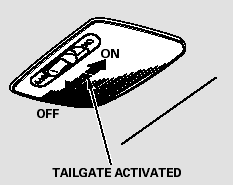 The cargo area light has a threeposition switch. In the OFF position, the light does not come on. In the center position, it comes on when you open the tailgate. In the ON position, it stays on continuously.
READ NEXT:
The heating and air conditioning system in your vehicle provides a comfortable driving environment in all weather conditions. The standard audio system has many features. This section descr
Vents, Heating, and A/C Fan Control Dial Turn this dial to increase or decrease the fan speed and airflow. Temperature Control Dial Turning this dial clockwise increases the temperature of
Use the mode control buttons to select the vents air flows from. Some air will flow from the dashboard corner vents in all modes. Air flows from the center and corner vents in the dashboa
SEE MORE:
The remote sound system controls are located on the back surface of the steering wheel. Reach behind the wheel to access the switches. Remote Sound System Controls (Back View Of Steering Wheel) The right hand control is a rocker type switch with a pushbutton in the center. Pressing the top of the s
The following accessories are necessary to attach the winch to anchors, change direction of pull, and for safe winching. Gloves: Wire rope, through use, will develop barbs which can slice skin. It is extremely important to wear protective gloves while operating the winch or handling the wire rope.
© 2016-2023 Copyright www.hcrv.net