Honda CR-V: AuthorizedManuals
Purchasing Factory Authorized Manuals (U.S. only)
The publications shown below can be purchased from Helm Incorporated. You can order by phone or online:
- Call Helm Inc. at 1-800-782-4356 (credit card orders only)
- Go online at www. helminc. com
If you are interested in other years or models, contact Helm Inc.
at 1-800-782-4356.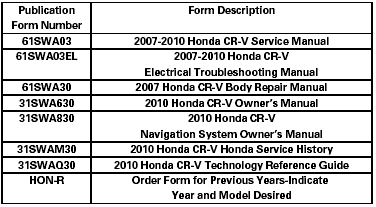 Service Manual:
Covers maintenance and recommended procedures for repair to engine and chassis components. It is written for the journeyman mechanic, but it is simple enough for most mechanically inclined owners to understand.
Electrical Troubleshooting Manual:
Complements the Service Manual by providing in-depth troubleshooting information for each electrical circuit in your vehicle.
Body Repair Manual:
Describes the procedures involved in the replacement of damaged body parts.
READ NEXT:
How to Use This Manual This manual is divided into multiple sections. The first page of each section is marked with a black tab that lines up with its corresponding thumb index tab on this page and th
Chassis and Paint Codes Vehicle Identification Number Manufacturer, Make and Type of Vehicle 5J6: Honda of America Mfg., Inc., U.S.A. Honda Multipurpose passenger vehicle JHL: Honda Motor Co
SEE MORE:
Vehicle Maintenance A properly maintained vehicle maximizes fuel economy. Poor maintenance can significantly reduce fuel economy. Always maintain your vehicle according to the maintenance messages displayed on the multiinformation display. For example: Use the recommended viscosity mo
You can also select a file directly from a track list on the audio display. Press the AUDIO button to show the audio display, then touch the Track List icon. The track list menu appears on the display. To scroll through the display, touch the or icon on the side of the screen.
© 2016-2022 Copyright www.hcrv.net