Honda CR-V: Adjust the Seat-Backs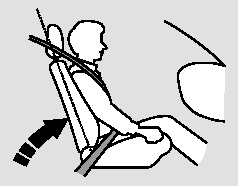 Adjust the driver's seat-back to a comfortable, upright position, leaving ample space between your chest and the airbag cover in the center of the steering wheel.
Passengers with adjustable seatbacks should also adjust their seatback to a comfortable, upright position.

Reclining the seat-back too far can result in serious injury or death in a crash.
Adjust the seat-back to an upright position, and sit well back in the seat.
Reclining a seat-back so that the shoulder part of the belt no longer rests against the occupant's chest reduces the protective capability of the belt. It also increases the chance of sliding under the belt in a crash and being seriously injured. The farther a seat-back is reclined, the greater the risk of injury.
See page for how to adjust the manual adjustable seat-back, and page for the power adjustable seat-back.
READ NEXT:
Adjust the driver's head restraint so the center of the back of your head rests against the center of the restraint. Have passengers adjust their head restraints properly as well. Talle
Insert the latch plate into the buckle, then tug on the belt to make sure the belt is securely latched. Check that the belt is not twisted, because a twisted belt can cause serious injuries
After all occupants have adjusted their seats and head restraints, and put on their seat belts, it is very important that they continue to sit upright, well back in their seats, with their f
SEE MORE:
The treadwear grade is a comparative rating based on the wear rate of the tire when tested under controlled conditions on a specified government test course. For example, a tire graded 150 would wear one and onehalf (1 1/2) times as well on the government course as a tire graded 100.
Hard Steering 1. Check the power assist. Is the initial turning load more than 34 N (3.5 kgf, 7.7 Ibf) ? YES-Go to step 2. NO-Power assist is OK. 2. Connect the P/S joint adapter (pump), P/S joint adapter (hose), and P/S pressure gauge T/N 07406- 0010001 (see page 17-9), T/N 07406-001000A or T/N
© 2016-2022 Copyright www.hcrv.net