Honda CR-V: Fasten and Position the Seat Belts
Insert the latch plate into the buckle, then tug on the belt to make sure the belt is securely latched. Check that the belt is not twisted, because a twisted belt can cause serious injuries in a crash.
The seat belt in the center position of the back seat can be unlatched and retracted to allow the back seat to be folded up or down. This seat belt should be latched whenever the seat-back is in an upright position.
See page for how to unlatch and relatch the seat belt.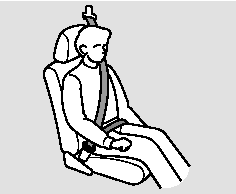 Position the lap part of the belt as low as possible across your hips, then pull up on the shoulder part of the belt so the lap part fits snugly.
This lets your strong pelvic bones take the force of a crash and reduces the chance of internal injuries.
If necessary, pull up on the belt again to remove any slack, then check that the belt rests across the center of your chest and over your shoulder.
This spreads the forces of a crash over the strongest bones in your upper body.

Improperly positioning the seat belts can cause serious injury or death in a crash.
Make sure all seat belts are properly positioned before driving.
If the seat belt touches or crosses your neck, or if it crosses your arm instead of your shoulder, you need to adjust the seat belt anchor height.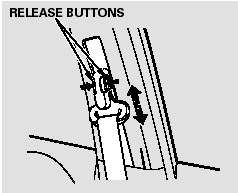 The front seats have adjustable seat belt anchors. To adjust the height of an anchor, press and hold the release buttons, and slide the anchor up or down as needed (it has four positions).
Never place the shoulder portion of a lap/shoulder belt under your arm or behind your back. This could cause very serious injuries in a crash.
If a seat belt does not seem to work properly, it may not protect the occupant in a crash.
No one should sit in a seat with an inoperative seat belt. Using a seat belt that is not working properly can result in serious injury or death.
Have your dealer check the belt as soon as possible.
See page for additional information about your seat belts and how to take care of them.
READ NEXT:
After all occupants have adjusted their seats and head restraints, and put on their seat belts, it is very important that they continue to sit upright, well back in their seats, with their f
If you are pregnant, the best way to protect yourself and your unborn child when driving or riding in a vehicle is to always wear a seat belt, and keep the lap part of the belt as low as
Never let passengers ride in the cargo area or on top of a foldeddown back seat. If they do, they could be very seriously injured in a crash. Passengers should not stand up or change seats wh
SEE MORE:
If equipped On U.S. model is shown Do not put any items on the dual deck cargo shelf that could block your view or be thrown around the vehicle during a crash. Do not use the dual deck cargo shelf if the rear seats are folded down. Do not exceed the dual deck cargo shelf load limit o
1. Open the tailgate. Unlatch the top of the cover by pulling back on it with your hands. 2. Place a cloth on the side edge of the cover to prevent scratches. Remove the cover by carefully prying on the edge with a small flat-tip screwdriver and pulling the cover off. 3. Remove the
© 2016-2023 Copyright www.hcrv.net