Honda CR-V: Keys and Locks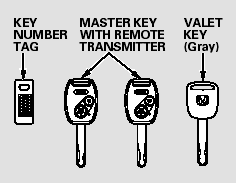 The master key fits all the locks on your vehicle. The valet key works only in the ignition and the driver's door lock. You can keep the glove box locked when you leave your vehicle and the valet key at a parking facility.
You should have received a key number tag with your keys. You will need this key number if you ever have to get a lost key replaced. Use only Honda-approved key blanks.
These keys contain electronic circuits that are activated by the immobilizer system. They will not work to start the engine if the circuits are damaged.
Protect the keys from direct sunlight, high temperature, and high humidity.
Do not drop the keys or set heavy objects on them.
Keep the keys away from liquids.
If they get wet, dry them immediately with a soft cloth.
The valet key does not contain a battery. Do not try to take it apart.
READ NEXT:
The immobilizer system protects your vehicle from theft. If an improperly coded key (or other device) is used, the engine's fuel system is disabled. When you turn the ignition switch to t
The ignition switch has four positions: LOCK (0), ACCESSORY (I), ON (II), and START (III). LOCK (0) - You can insert or remove the key only in this position. To turn the key, the shift lev
SEE MORE:
1. MIST 2. OFF 3. INT Intermittent 4. LO Low speed 5. HI High speed 6. Windshield washers Push the right lever up or down to select a position. MIST - The wipers run at high speed until you release the lever. OFF - The wipers are not activated. INT - The wipers operate every few s
For safety, you should check the condition of your seat belts regularly. Pull each belt out fully, and look for frays, cuts, burns, and wear. Check that the latches work smoothly and the belts retract easily. If a belt does not retract easily, cleaning the belt may correct the problem.
© 2016-2020 Copyright www.hcrv.net