Honda CR-V: Identification Numbers
Your vehicle has several identifying numbers located in various places.
The vehicle identification number (VIN) is the 17-digit number your dealer uses to register your vehicle for warranty purposes. It is also necessary for licensing and insuring your vehicle. The easiest place to find the VIN is on a plate fastened to the top of the dashboard. You can see it by looking through the windshield on the driver's side. It is also on the certification label attached to the driver's doorjamb, and is stamped on the engine compartment bulkhead. The VIN is also provided in bar code on the certification label.
To access the VIN in the engine compartment, pull down the lid on the back of the engine compartment.
Make sure to close the lid before closing the hood.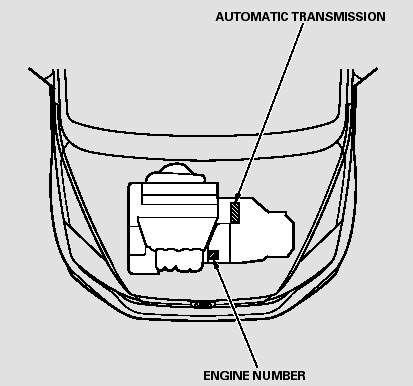 The engine number is stamped into the front of the engine block.
You can see the engine number through the window next to the ''H'' logo.
The transmission number is on a label on top of the transmission.
READ NEXT:
Dimensions Weights Engine Capacities Capacities *1: Excluding the oil remaining in the engine *2: Including the coolant in the reserve tank and that remaining in the engine Reserve
The tires on your vehicle meet all U.S. Federal Safety Requirements. All tires are also graded for treadwear, traction, and temperature performance according to Department of Transportation
Quality grades can be found where applicable on the tire sidewall between tread shoulder and maximum section width. For example: Treadwear 200 Traction AA Temperature A All passenger car t
SEE MORE:
Special Tools Piston Seal Ring Sizing Tool Bushing Base Piston Seal Ring Guide Cylinder End Seal Slide Locknut Wrench, 40 mm Ball Joint Remover, 28 mm Valve Seal Ring Sizing Tool Sleeve Seal Ring Guide Pulley Holder Sleeve Seal Ring Sizing Tool, 36 mm P/S Joint Adapter (pump) P/S Join
Both front seats are adjustable forward or rearward. The manual seat adjustment handle is located under the seat cushion at the front edge of each seat. Manual Seat Adjuster While sitting in the seat, pull up on the handle and slide the seat forward or backward. Release the bar once you have reache
© 2016-2023 Copyright www.hcrv.net