Honda CR-V: Center Table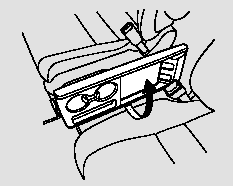 On LX and EX models
To use the center table, pull up the outside edge of the table until it latches. To store it, pull the lever and lower the table.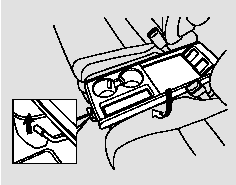 Sitting on or getting under the table, or putting heavy objects on the table, may damage or deform it.
Do not put any items on the table while driving. They may fall down or fly around when you go around corners or brake hard.
READ NEXT:
Open the lower glove box by pulling the bottom of the handle. Close it with a firm push. Lock or unlock the glove box with the master key. The glove box light comes on when the parking li
Open the upper glove box by pushing up the lever. Close it by pulling down on the edge under the lever.
To use the vanity mirror on the back of the sun visor, pull up the cover. Except LX model The vanity mirror lights come on when you pull up the cover.
SEE MORE:
General Winch Information Your vehicle is equipped with an electric vehicle recovery winch. This winch uses the electrical power from the vehicle charging system to power a motor that winds wire rope into the winch drum via planetary gear reduction. By nature, a winch is capable of generating very
Use of genuine MOPAR parts for normal/scheduled maintenance and repairs is highly recommended to ensure the designed performance. Damage or failures caused by the use of non-MOPAR parts for maintenance and repairs will not be covered by the New Vehicle Limited Warranty. Dealer Service Your authorize
© 2016-2023 Copyright www.hcrv.net