Honda CR-V: Your Vehicle at a Glance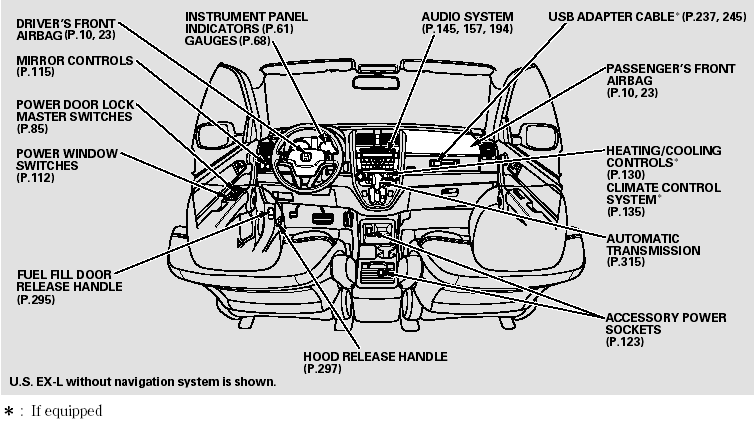 READ NEXT:
This section gives you important information about how to protect yourself and your passengers. It shows you how to use seat belts. It explains how your airbags work. And it tells you how to
You'll find many safety recommendations throughout this section, and throughout this manual. The recommendations on this page are the ones we consider to be the most important.
A seat belt is your best protection in all types of collisions. Airbags are designed to supplement seat belts, not replace them. So even though your vehicle is equipped with airbags, make su
SEE MORE:
Replace your tires with radial tires of the same size, load range, speed rating, and maximum cold tire pressure rating (as shown on the tire's sidewall). Mixing radial and bias-ply tires on your vehicle can reduce braking ability, traction, and steering accuracy. Using tires of a di
Special Tools Required TPMS sensor initializer tool AKS0620006 Available through the American Honda Tool and Equipment program, 888-424-6857. All four tire pressure sensor IDs must be memorized to the TPMS control unit whenever you do any of these actions: Replace the TPMS control unit. Replace
© 2016-2023 Copyright www.hcrv.net