Honda CR-V: Tire Inspection
Every time you check inflation, you should also examine the tires for damage, foreign objects, and wear.
You should look for:
Bumps or bulges in the tread or side of the tire. Replace the tire if you find either of these conditions.
Cuts, splits, or cracks in the side of the tire. Replace the tire if you can see fabric or cord.
Excessive tread wear.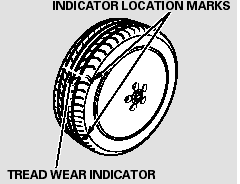 Your tires have wear indicators molded into the tread. When the tread wears down, you will see a 1/2 inch (12.7 mm) wide band across the tread. This shows there is less than 1/16 inch (1.6 mm) of tread left on the tire.
A tire this worn gives very little traction on wet roads. You should replace the tire if you can see three or more tread wear indicators.
READ NEXT:
The service life of your tires is dependent on many factors, including, but not limited to, driving habits, road conditions, vehicle loading, inflation pressure, maintenance history, speed,
In addition to proper inflation, correct wheel alignment helps to decrease tire wear. If you find a tire is worn unevenly, have your dealer check the wheel alignment. Have your dealer check t
To help increase tire life and distribute wear more evenly, rotate the tires according to the maintenance messages displayed on the information display.Move the tires to the positions show
SEE MORE:
1. Connect the Honda Diagnostic System (HDS) to the data link connector (DLC) (see step 2). 2. Turn the ignition switch ON (II). 3. Make sure the HDS communicates with the vehicle and the powertrain control module (PCM). If it doesn't communicate, troubleshoot the DLC circuit. 4. Check for DTCs.
Your airbag systems are virtually maintenance free, and there are no parts you can safely service. However, you must have your vehicle serviced if: An airbag ever inflates. Any airbag that has deployed must be replaced along with the control unit and other related parts. Any seat bel
© 2016-2022 Copyright www.hcrv.net