Honda CR-V: Maintenance Main Items and Sub Items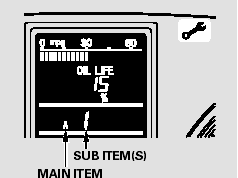 All maintenance items displayed on the information display are in code.
For an explanation of these maintenance codes.
READ NEXT:
Your dealer will reset the display after completing the required maintenance service. You will see ''OIL LIFE 100%'' on the information display the next time you turn the ignition sw
If you have the required service done but do not reset the display, or reset the display without doing the service, the system will not show the correct maintenance intervals. This can lead
You should check the following items at the specified intervals. If you are unsure of how to perform any check, turn to the appropriate page listed. Engine oil level - Check every time you
SEE MORE:
Power Door Locks/Keyless 1. Check for B-CAN DTCs. If any B-CAN DTCs are indicated, troubleshoot and resolve them first. 2. If the door lock system and the keyless operation. does not work, troubleshoot the door locks first. NOTE: The system does not function when the ignition switch is ON (II).
The lock-up mechanism of the torque converter clutch operates in D position (2nd, 3rd, 4th, and 5th), and in D position D3 driving mode (2nd and 3rd). The pressurized fluid is drained from the back of the torque converter through a fluid passage, causing the torque converter clutch piston to be he
© 2016-2023 Copyright www.hcrv.net