Honda CR-V: Carrying Cargo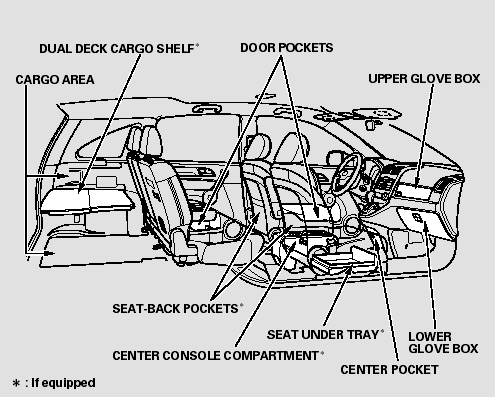 Your vehicle has several convenient storage areas:
Lower glove box
Upper glove box
Console compartment
Door pockets
Seat-back pockets
Seat-under tray (if equipped)
Center pocket
Cargo area, including the rear seats when folded up or down.
Upper and lower cargo areas with the dual deck cargo shelf (if equipped)
Roof-rack (if equipped)
However, carrying too much cargo, or improperly storing it, can affect your vehicle's handling, stability, stopping distance, and tires, and make it unsafe. Before carrying any type of cargo, be sure to read the following pages.
READ NEXT:
The maximum load for your vehicle is 850 lbs (385 kg) for U.S. vehicles, and 395 kg for Canadian vehicles. This figure includes the total weight of all occupants, cargo, and accessories, and
Store or secure all items that could be thrown around and hurt someone during a crash. Be sure items placed on the floor behind the front seats cannot roll underneath and interfere with the
Distribute cargo evenly on the floor of the cargo area, placing the heaviest items on the bottom and as far forward as possible. Tie down items that could be thrown about the vehicle during
SEE MORE:
Do not attempt to deactivate your airbags. Together, airbags and seat belts provide the best protection. Do not tamper with airbag components or wiring for any reason. Tampering could cause the airbags to deploy, possibly causing very serious injury. Do not expose the front passenger
After pressing the Lights soft-key the following settings will be available. Headlight Off Delay When this feature is selected, the driver can choose to have the headlights remain on for 0, 30, 60, or 90 seconds when exiting the vehicle. To make your selection, scroll up or down until the preferr
© 2016-2023 Copyright www.hcrv.net