Honda CR-V: Calculating Fuel Economy
Measuring Techniques
Direct calculation is the recommended source of information about your actual fuel economy.
Using frequency of fill-ups or taking fuel gauge readings are NOT accurate measures of fuel economy.
Fuel economy may improve over the first several thousand miles (kilometers).
Checking Your Fuel Economy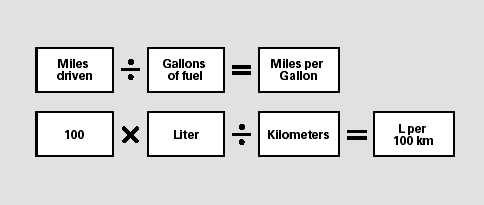 1) Fill the fuel tank until the nozzle automatically clicks off.
2) Reset trip counter to zero.
3) Record the total gallons (liters) needed to refill.
4) Follow one of the simple calculations above.
READ NEXT:
Modifying your vehicle, or installing some non-Honda accessories, can make it unsafe. Before you make any modifications or add any accessories, be sure to read the following information.
Your dealer has Honda accessories that allow you to personalize your vehicle. These accessories have been designed and approved for your vehicle, and are covered by warranty. Although non-Hon
Removing parts from your vehicle, or replacing components, with non-Honda components could seriously affect your vehicle's handling, stability, and reliability. Here are some examples: Low
SEE MORE:
NOTE: Before you troubleshoot, record all freeze data and any on-board snapshot, and review the general troubleshooting information. If a high voltage battery (24 V, etc.) is connected to the vehicle, this DTC can be stored. 1. Turn the ignition switch ON (II). 2. Clear the DTC with the HDS.
1. Check the No. 36 (10 A) fuse in the under-dash fuse/ relay box. Is the fuse OK? YES-Go to step 2. NO-Replace the fuse, and recheck. If the fuse blows again, check for a short in the No. 36 (10 A) fuse circuit. 2. Disconnect the recirculation control motor 7P connector. 3. Turn the ignition s
© 2016-2022 Copyright www.hcrv.net