Honda CR-V: Airbags
Your vehicle has a supplemental restraint system (SRS) with front airbags to help protect the heads and chests of the driver and a front seat passenger during a moderate to severe frontal collision.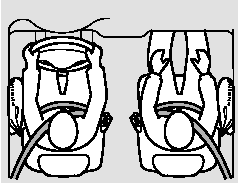 Your vehicle also has side airbags to help protect the upper torso of the driver or a front seat passenger during a moderate to severe side impact.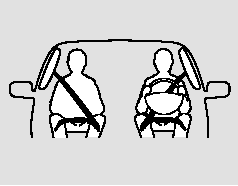 In addition, your vehicle has side curtain airbags to help protect the heads of the driver, front passenger, and passengers in the outer rear seating positions during a moderate to severe side impact or rollover.
The most important things you need to know about your airbags are:
Airbags do not replace seat belts.
They are designed to supplement the seat belts.
Airbags offer no protection in rear collisions, or minor frontal or side collisions.
Airbags can pose serious hazards.
To do their job, airbags must inflate with tremendous force. So while airbags help save lives, they can cause minor injuries or more serious or even fatal injuries if occupants are not properly restrained or sitting properly.
What you should do: Always wear your seat belt properly, and sit upright and as far back from the steering wheel as possible while allowing full control of the vehicle. A front passenger should move their seat as far back from the dashboard as possible.
The rest of this section gives more detailed information about how you can maximize your safety.
Remember, however, that no safety system can prevent all injuries or deaths that can occur in a severe crash, even when seat belts are properly worn and the airbags deploy.
READ NEXT:
The following pages provide instructions on how to properly protect the driver, adult passengers, and teenage children who are large enough and mature enough to drive or ride in the front.
After everyone has entered the vehicle, be sure the doors and the tailgate are closed and locked. Your vehicle has a door and tailgate open indicator on the instrument panel to indicate
SEE MORE:
Distribution of Hydraulic Pressure As the engine turns, the ATF pump starts to operate. Automatic transmission fluid (ATF) is drawn through the ATF strainer (filter) and discharged into the hydraulic circuit. Then, ATF flowing from the ATF pump becomes line pressure that is regulated by the regula
NOTE: Before you troubleshoot, record all freeze data and any on-board snapshot, and review the general troubleshooting information. 1. Turn the ignition switch ON (II). 2. Clear the DTC with the HDS. 3. Turn the blower switch OFF. 4. Check the FAN CTRL in the DATA LIST with the HDS. Is it OFF?
© 2016-2021 Copyright www.hcrv.net